---
---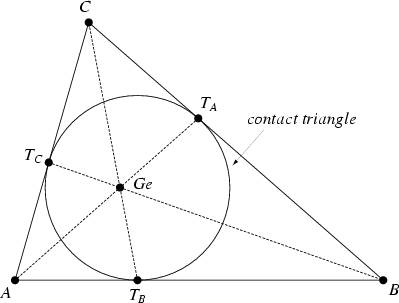 The common point of the Concurrent lines from the Tangent points of a Triangle's Incircle to the opposite Vertices. It has Triangle Center Function



It is the Isotomic Conjugate Point of the Nagel Point. The Contact Triangle and Tangential Triangle are perspective from the Gergonne point.

See also Gergonne Line


References

Altshiller-Court, N. College Geometry: A Second Course in Plane Geometry for Colleges and Normal Schools, 2nd ed. New York: Barnes and Noble, pp. 160-164, 1952.

Coxeter, H. S. M. and Greitzer, S. L. Geometry Revisited. New York: Random House, pp. 11-13, 1967.

Eves, H. W. A Survey of Geometry, rev. ed. Boston, MA: Allyn and Bacon, p. 83, 1972.

Gallatly, W. The Modern Geometry of the Triangle, 2nd ed. London: Hodgson, p. 22, 1913.

Johnson, R. A. Modern Geometry: An Elementary Treatise on the Geometry of the Triangle and the Circle. Boston, MA: Houghton Mifflin, pp. 184 and 216, 1929.

Kimberling, C. ``Gergonne Point.'' http://cedar.evansville.edu/~ck6/tcenters/class/gergonne.html.




---
© 1996-9 Eric W. Weisstein
1999-05-25