---
---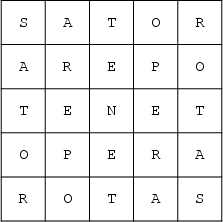 A Magic Square-type arrangement of the words in the Latin sentence ``Sator Arepo tenet opera rotas'' (``the farmer Arepo keeps the world rolling''). This square has been found in excavations of ancient Pompeii.
See also
Magic Square

References
Bouisson, S. M. La Magie: Ses Grands Rites, Son Histoire. Paris, pp. 147-148, 1958.
Grosser, F. ``Ein neuer Vorschlag zur Deutung der Sator-Formel.'' Archiv. f. Relig. 29, 165-169, 1926.
Hocke, G. R. Manierismus in der Literatur: Sprach-Alchimie und esoterische Kombinationskunst. Hamburg, Germany: Rowohlt, p. 24, 1967.
---
© 1996-9 Eric W. Weisstein
1999-05-26