---
---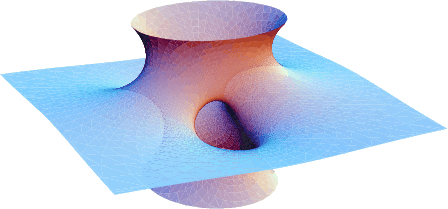 A complete embedded Minimal Surface of finite topology. It has no Boundary and does not intersect itself. It can be represented parametrically by




where

is the Weierstraß Zeta Function,

is the Weierstraß Elliptic Function,

,

, and the invariants are given by
and

.


References

Costa, A. ``Examples of a Complete Minimal Immersion in

of Genus One and Three Embedded Ends.'' Bil. Soc. Bras. Mat. 15, 47-54, 1984.
do Carmo, M. P. Mathematical Models from the Collections of Universities and Museums (Ed. G. Fischer). Braunschweig, Germany: Vieweg, p. 43, 1986.
Gray, A. Modern Differential Geometry of Curves and Surfaces.Boca Raton, FL: CRC Press, 1993.
Gray, A. Images of the Costa surface. ftp://bianchi.umd.edu/pub/COSTAPS/.
Nordstrand, T. ``Costa-Hoffman-Meeks Minimal Surface.'' http://www.uib.no/people/nfytn/costatxt.htm.
Peterson, I. ``The Song in the Stone: Developing the Art of Telecarving a Minimal Surface.'' Sci. News 149, 110-111, Feb. 17, 1996.
---
© 1996-9 Eric W. Weisstein
1999-05-25