---
---
An Interspersion array given by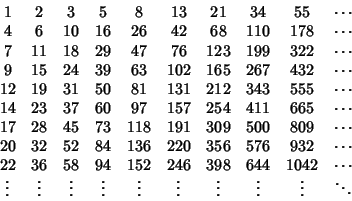 the first row of which is the Fibonacci Numbers.

See also Interspersion, Wythoff Array


References

Kimberling, C. ``Interspersions and Dispersions.'' Proc. Amer. Math. Soc. 117, 313-321, 1993.

Morrison, D. R. ``A Stolarsky Array and Wythoff Pairs.'' In A Collection of Manuscripts Related to the Fibonacci Sequence. Santa Clara, CA: Fibonacci Assoc., pp. 134-136, 1980.




---
© 1996-9 Eric W. Weisstein
1999-05-26