---
---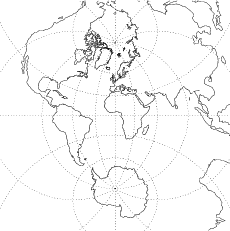 A Map Projection in which Great Circles are Circles and Loxodromes are Logarithmic Spirals.



where

| | |
| --- | --- |
| | (3) |
The inverse Formulas are given by

where



See also Gall's Stereographic Projection


References

Coxeter, H. S. M. and Greitzer, S. L. Geometry Revisited. Washington, DC: Math. Assoc. Amer., pp. 150-153, 1967.

Snyder, J. P. Map Projections--A Working Manual. U. S. Geological Survey Professional Paper 1395. Washington, DC: U. S. Government Printing Office, pp. 154-163, 1987.




---
© 1996-9 Eric W. Weisstein
1999-05-26