---
---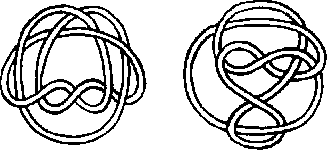 The Knots 10-161 and 10-162 illustrated above. They are listed as separate knots in the pictorial enumeration of Rolfsen (1976, Appendix C), but were identified as identical by Perko (1974).

References
Perko, K. A. Jr. ``On the Classification of Knots.'' Proc. Amer. Math. Soc. 45, 262-266, 1974.
Rolfsen, D. ``Table of Knots and Links.'' Appendix C in Knots and Links. Wilmington, DE: Publish or Perish Press, pp. 280-287, 1976.
---
© 1996-9 Eric W. Weisstein
1999-05-26