---
---
The Integer Sequence defined by the Recurrence Relation



with

. The first few values are 1, 1, 2, 2, 3, 4, 4, 4, 5, 6, ... (Sloane's A004001). Plotting

against

gives the Batrachion plotted below. Conway (1988) showed that

and offered a prize of $10,000 to the discoverer of a value of

for which

for

. The prize was subsequently claimed by Mallows, after adjustment to Conway's ``intended'' prize of $1,000 (Schroeder 1991), who found

.




takes a value of 1/2 for

of the form

with

, 2, .... Pickover (1996) gives a table of analogous values of

corresponding to different values of

.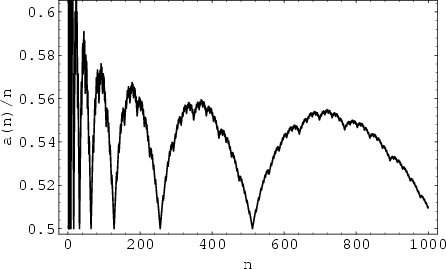 See also Blancmange Function, Hofstadter's Q-Sequence, Mallow's Sequence


References

Conolly, B. W. ``Meta-Fibonacci Sequences.'' In Fibonacci and Lucas Numbers, and the Golden Section (Ed. S. Vajda). New York: Halstead Press, pp. 127-138, 1989.

Conway, J. ``Some Crazy Sequences.'' Lecture at AT&T Bell Labs, July 15, 1988.

Guy, R. K. ``Three Sequences of Hofstadter.'' §E31 in Unsolved Problems in Number Theory, 2nd ed. New York: Springer-Verlag, pp. 231-232, 1994.

Kubo, T. and Vakil, R. ``On Conway's Recursive Sequence.'' Disc. Math. 152, 225-252, 1996.

Mallows, C. ``Conway's Challenging Sequence.'' Amer. Math. Monthly 98, 5-20, 1991.

Pickover, C. A. ``The Drums of Ulupu.'' In Mazes for the Mind: Computers and the Unexpected. New York: St. Martin's Press, 1993.

Pickover, C. A. ``The Crying of Fractal Batrachion 1,489.'' Ch. 25 in Keys to Infinity. New York: W. H. Freeman, pp. 183-191, 1995.

Schroeder, M. ``John Horton Conway's `Death Bet.''' Fractals, Chaos, Power Laws. New York: W. H. Freeman, pp. 57-59, 1991.

Sloane, N. J. A. Sequence A004001/M0276 in ``An On-Line Version of the Encyclopedia of Integer Sequences.'' http://www.research.att.com/~njas/sequences/eisonline.html and Sloane, N. J. A. and Plouffe, S. The Encyclopedia of Integer Sequences. San Diego: Academic Press, 1995.



---
---
© 1996-9 Eric W. Weisstein
1999-05-25