---
---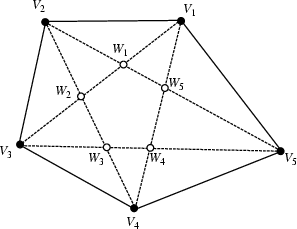 A geometric theorem related to the Pentagram and also called the Pratt-Kasapi Theorem.




In general, it is also true that



This type of identity was generalized to other figures in the plane and their duals by Pinkernell (1996).


References

Chou, S. C. Mechanical Geometry Theorem Proving. Dordrecht, Netherlands: Reidel, 1987.

Grünbaum, B. and Shepard, G. C. ``Ceva, Menelaus, and the Area Principle.'' Math. Mag. 68, 254-268, 1995.

Hoehn, L. ``A Menelaus-Type Theorem for the Pentagram.'' Math. Mag. 68, 254-268, 1995.

Pinkernell, G. M. ``Identities on Point-Line Figures in the Euclidean Plane.'' Math. Mag. 69, 377-383, 1996.




---
© 1996-9 Eric W. Weisstein
1999-05-25