---
---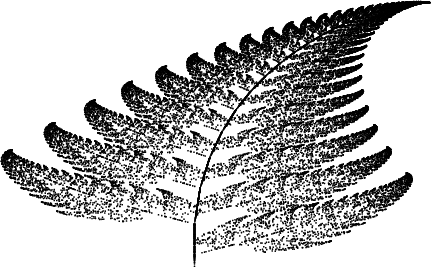 The Attractor of the Iterated Function System given by the set of ``fern functions''



(Barnsley 1993, p. 86; Wagon 1991). These Affine Transformations are contractions. The tip of the fern (which resembles the black spleenwort variety of fern) is the fixed point of

, and the tips of the lowest two branches are the images of the main tip under

and

(Wagon 1991).

See also Dynamical System, Fractal, Iterated Function System


References

Barnsley, M. Fractals Everywhere, 2nd ed. Boston, MA: Academic Press, pp. 86, 90, 102 and Plate 2, 1993.

Gleick, J. Chaos: Making a New Science. New York: Penguin Books, p. 238, 1988.

Wagon, S. ``Biasing the Chaos Game: Barnsley's Fern.'' §5.3 in Mathematica in Action. New York: W. H. Freeman, pp. 156-163, 1991.




---
© 1996-9 Eric W. Weisstein
1999-05-26